The Friends of the Pink Triangle - founded by Patrick Carney, Thomas Tremblay, and Michael Brown - is a small group of volunteers who, on a tiny budget, construct a gigantic pink triangle on Twin Peaks as a visible yet mute reminder of man's inhumanity to man. Many hardworking individuals make the display possible every year by climbing the hill and installing over 175 bright pink canvasses and thousands of steel spikes.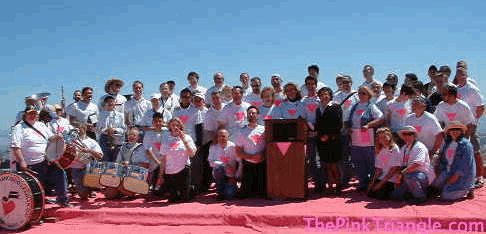 Commemoration speakers have included:
Congresswoman (now Speaker of The House of Representatives) Nancy Pelosi;
Mayor Gavin Newsom;
Mayor Willie L. Brown Jr.;
Senator Carole Migden;
Assemblyman Mark Leno;
Assemblyman Kevin Shelley;
US Ambassador James Hormel;
German Consul General Rolf Schütte;
President of the Board of Supervisors Tom Ammiano;
Supervisor Bevan Dufty;
Supervisor Sue Bierman;
Supervisor Leslie Katz;
Supervisor Aaron Peskin;
Treasurer José Cisneros;
Treasurer Susan Leal;
Assessor Mabel Teng;
Bruce Vilanch - actor & writer;
Jan Wahl - TV hostess & personality;
Leslie Jordan - Will and Grace actor;
Alec Mapa - Desperate Housewives actor;
Graham Norton - comedian and talk-show host;
Wilson Cruz - Noah's Ark actor;
Reichen Lehmkuhl - author and TV reality-show victor;
Empress Jose Sarria - the Widow Norton;
Ilene Chaiken - TV producer and creator of The 'L' Word;
Wes Culwell - actor & writer;
Honey Labrador - model and TV personality;
Esera Tuaolo - NFL football player, actor, singer;
Eric Alva - first US soldier wounded in the Iraq War (losing a leg), now an outspoken critic of the "Don't Ask, Don't Tell" military policy towards homosexuals;
Ted Phillips - Deputy Director of Exhibitions at the U.S. Holocaust Museum (Washington, D. C.) and curator of Nazi Persecution of Homosexuals - 1933-1945;
Sylvia Guerrero - mother of Gwen Araujo, who was murdered for being transgendered;
Dorothy Hajdys-Holman - mother of Allen Schindler, who was murdered for being gay in the U. S. Navy;
Alice Hoglan - mother of Mark Bingham, a gay hero on Flight 93 on Sept. 11, 2001.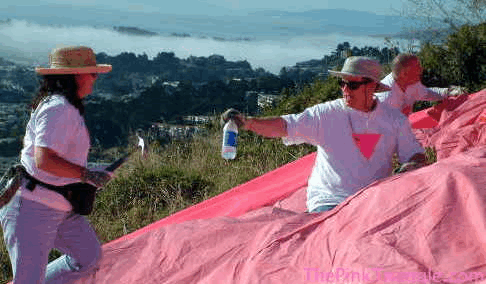 Volunteers have included: Willie Acklin, Jessica Aebi, Arthur Akkerman, Franklin Alabro, Joel Alegria, Joe Alfano, Ron Alvarez, Dean Ammons, Tom Ammiano, Blaine Andrews, Andrew Arzate, Artur Aukerman, Jeffrey E Auman, Mariva Aviram, Alan Balderson, Quentin Baldwin, Lion Barnett, Tyler Bee, Heidi Beeler, Diana Berry, Verna Berry, Sue Bierman, Calgary Blue, Elissa Bowles, Lewis Bossing, Bill Botts, John Botts, Chris Boyd, Kurt Bradley, Florence Bray, D. J. Brown, Dee Brown, Michael Brown, Willie L. Brown, Jr., Lucy Brooks, Nancy Vernon-Burke, Scot Burns, Joey Burrage, Robert Byree, Jennifer Canale, Grant Cassinger, Frank Capley, Gemiliano Carlini, Edith Carney, Patrick Carney, Kevin Cash, Mark Catchpole, Cat and Leigh, Jo Chen, Bret Cherry, Heather Cherry, Jose' Cisneros, Doug Clary, Charlie Cleveland, Josie Clevenger, Tim Cohrs, Anthony Colantonio, Cathy Colby, Chelsea Colby, Tori Colby, Lynn Condit, Duane Condit, Andrea Connell, Luis Cordero, Steven Cox, Michael Crouse, Michael Cross, Greg Cruz, Wilson Cruz, Norman Cuccio, P.K.Cumbelich, Darren Curry, Kirk Dahle, Nancy Daniels, Bob Dastrup, d'Amileau Daulk, Nevart Der-Torossian, Mickey Deveny, Brian Devine, James Donaher, James Donovan, Bevan Dufty, Phillip Dunnavant, Julien Dunoyer, Bruce Dupuis II, Ken Emery, Ed Emond, Daniel Ermster, Carlos Esteban, Ron Fairley, Ben Fajen, Carroll Fears, Greg Fisher, Jay Fournier, Joe Foster, Pierre Francois, Julie Furukawa, Jon Gale, Tracy Gable, Amy Gates, J.P. Gaynor, Gemiliano & Luis, Tom Gerstle, Emmy Gladney, Charles Go, Shannon Gorden, Meghan Gorden, Chris Gonzalez, Jim Gonzalez, Marcus Gonzalez, Olivier Gougaud , Victor Gresser, Jeanine Green, Jerry Greenstein, Andrew Grinsby, John Haenselman, Larry Hall, Ron Hanggler, Charli Hamilton, Penny Hammac, Micah Hammac, Seth Hammac, Leah Hammond, Kiowa Hammons, Wade Hampton, Mark Hankins, Wilson Hardcastle, Robert Harris, Jeff Hasner, Trevor Hayes, Donald Hawkey, Carl Heimann, David Helton, David Hernandez, Katie Hickox, Norman Hicks, Colleen Hodgkins, Leslie Hodgkins, Travis Hodgkins, Joe Hodgkins, Russell Hong, Mark Huebner, David Hudak, Jim Huddleston, Thomas Hughes, Gail Husson, Jason Husted, Chris Jaworski, Mindee Jeffery, Dave Jensen, Michelle Jester, Lindsey Jones, Leslie Jordan, Kevin Joyce, John Kai, Devon & Leila Kaylor, Steve Kech, Joe Kelso, Sheela Kini, Kenny Ray King, Megan Kinninger. Glenn Klipp, Luke Klipp, Jake Knight, Jeff Knollmiller, Michael Koehn, Jeffrey Kohler, Michael Kohn, Ann Koenig, Cheryl Kohout, Keith Koller, George Koyuly, Jenn Krump, Rob Kubitz, Karla Kyrias, Daniel Langholtz, Michael Laorange, Jeff Leach, Jay Legendre, Mark Leno, Aaron Licursi, Amy Little, Chris Linkenhoker, Rick Logsdon, Don MacGregor, Jessica Leiva, Maxwell Love, Liisa Lyon, Don MacGregor, Stan Mandell, Ross Mang, Tim Mansfield , Brad Mar, William Martin, Sandra May, Doug McAbee, Will McCall, Shelley McClean, Diana McDonnell, Solange McGirr, Tom McKinley, Steven Mc Murtrie, Sam Mercurio, Richard Mendoza, Melissa Meyers, Carole Migden, Patrick Miska, John Mokricky, Jamie Moore, Michael Moore, Cesar Mora, Patty Moreira, Gerry Morales, Michael Morgan, Halya Mugglebee, Tom Murray, Greg Nelson, Michael Newell, Gavin Newsom, Michael Nicholson, Brooke Nieman, Bill Norgaard, Redge Nortoa, Graham Norton, Reg Norton, Robert Noyac, Anne O'Driscoll, David Opitz, Randy E. Ortega, Luis Palomar, Brad Parham, John Parr, Karen Pavch, Ted Phillips, Terri Paine-Cameron, Arsham Parsi, Daniel Pearch, Jim Pelfini, Nancy Pelosi, Vance Pierce, Lisa Pickel, Eden Pitschmann, Ronald Podoske, David Polizzi, Gardner Pond, Jerry Power, Susan Prentice, Rebecca Prozan, Tom Rogers, Charles Ramsey, Alberto Rangel, Joe Rescignano, Brad Rice, Scott Rick, John Ridburn, Marq Ridburn, Hannes Ripfel, Jacob Risken, Mickey Risken, Philip Risken, Greg, Rodehau, Terry Rogers, Michael Rohr, Jose Romero, Saren Roybail, Mark Ruiz, Colleen Russell, Jim Russell, Louise Russell, Shaun Russell, Brian Rutter, Marcelo Ruvalcaba, Nivmalpal Sachden, Brad Saget, Steph Sakai, Mary Sager, Brad Saget, Frank Sanchez, Lila & Isaac & Rose & Michael 'Mickey' Sattler, Jim Salveson, Franklin Sanchez, Tom Shankle, Tim Schreck, Greg Schuler, Brad Schwartz, Erik Seniska, Hossein Sepas, Bevin Shamel, Bond Shands, Dylan Shearer, Sean Shearer, David Sherman, Guy Schouten, Vicki Simon, Tate Simon-Cohrs, David Speyer, Charlie Spiegel, Mary Staavas, Charles Stefanac, Max & Alan Stewart, Stan Stone, Lyle Sweeney, Keith Sullivan, Michael Susnow, Bill Sywak, Matt Szczepanski, Paulino Tamayo, Jake Tapia, Rob Tarney, Carl Tebell, Christopher Then, Chris Thompson, Stephen Thompson, Donny Tinsley, Paul Tombley, Leslie Townsend, Thomas Tremblay, Jon Trompeter, Sebastien Trouplin, Fred Trujillo, Tyler Tschantz, Greg Turner, Deborah Udin, Paul Valdez, Albert Valez, Louis Vanlier, Robert Vargas, Jose Vega, Dennis Veite, Bruce Vilanch, Mike Vykukal, Jan Wahl, Rich Wahl, Stephen Walsh, Michael Walters, Tracy Ward, Doug Washington, Dan Waterhouse, John Weaver, Maggie Weis, David Wickham, Jack Wiggins, Tony Wiley, Judy Williams, Bill Wilson, John Winter, Teddy Witherington, John White, Gerri Wilson, John Winter, Amantha Wood, Mike Yamnitsky, Gordon Yusko, Otakar Zich, and Vicki Zettler
Music by The San Francisco Lesbian/Gay Freedom Band.
Primary contributors over the years have been:
Patrick Carney organizes the installation and commemoration ceremony each year.
This website started by Katie Hickox and David Helton; current design and implementaton by Michael 'Mickey' Sattler.
&nbsp